Skip to Content
Freeman Orthopedics & Pain Center Offers Shoulder Treatment in Brick, NJ
Patients throughout Brick, New Jersey, and the surrounding communities trust Freeman Orthopedics & Pain Center for effective treatment options for shoulder pain. Our professionals have access to cutting-edge diagnostic equipment to quickly and accurately pinpoint the location and cause of your shoulder pain. We can provide accurate treatment plans to provide you with relief faster, with the proper diagnosis. Chronic and acute shoulder pain can prevent you from working and spending time with friends and family and make the activities you love impossible to enjoy. Let our team treat your shoulder pain. Speak to us today to learn more about our treatments.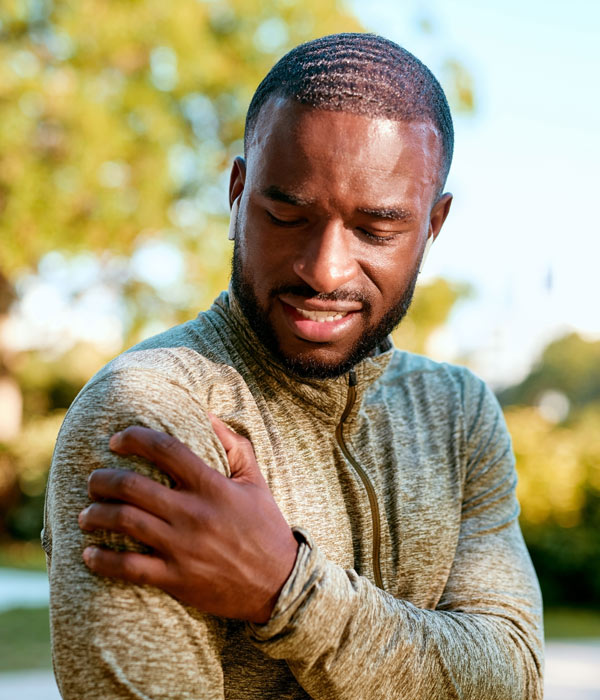 Common Causes of Shoulder Pain
Numerous symptoms may indicate an underlying issue with your shoulder, including a limited range of motion, stinging pain, soreness, and numbness. It's not normal for anyone to experience these sensations throughout the day. If you are, it's essential to seek the professional care of an orthopedic specialist. Our team can diagnose the underlying issue and provide the proper treatment so that you can experience pain-free living once again. Some of the most common causes of shoulder pain include:
Tears – Your rotator cuff is responsible for holding your shoulder in place and providing you with a range of motion. When those ligaments tear either due to an injury or overuse, it's excruciating and debilitating
Bursitis – Bursae are tiny fluid-filled sacs that provide cushion for the bones and tendons in your shoulder. If they become inflamed or infected, it can cause pain in the affected area.
Dislocated Shoulder – Your humerus fits in a cup-shaped space created by your shoulder blade. Certain sudden impacts can cause the humerus to dislodge from the space.
Effective Treatment for Shoulder Pain
Any of these causes will lead to significant pain for patients. Luckily, Dr. Freeman and the professionals at Freeman Orthopedics & Pain Center offer a wide range of treatment options to alleviate the pain while helping your shoulder to heal. As an in-network orthopedic specialist, we're here to ensure you get the very best care at an affordable price. Our treatments include medication management, injections, and more. If you're ready to reduce the pain you're experiencing, schedule your appointment today.
Schedule Your Appointment Today