Skip to Content
Orthopedic Neck Pain Treatment in Brick, NJ
Chronic or acute neck pain is very common among adults. Even the most mundane daily activities, including sleeping, working, and exercising, can strain your neck. If not properly managed, your condition may worsen. The orthopedic specialist at Freeman Orthopedics & Pain Center in Brick, NJ offers a variety of non-surgical treatment options that can help alleviate muscle tension and degenerative conditions. As an in-network orthopedic clinic for many of the top insurance companies, we've become the specialist many adults trust to alleviate the pain they're experiencing in their necks. Let our team customize a treatment plan to ensure a pain-free lifestyle.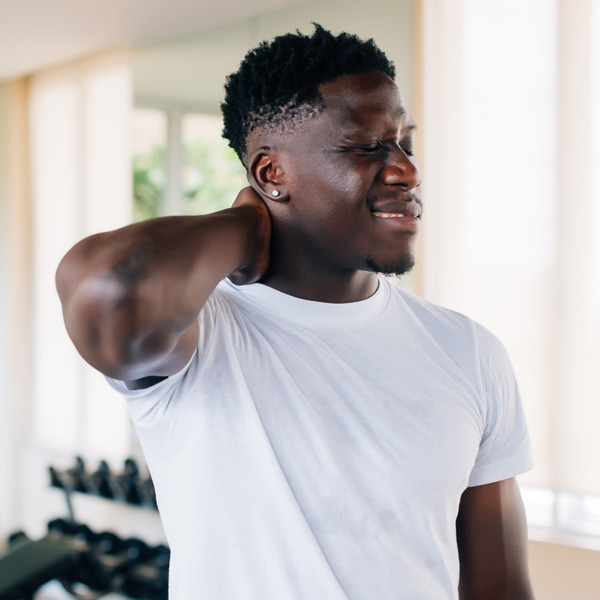 Common Symptoms of Neck Pain
If you're experiencing severe neck pain, it may prevent you from living your life to the fullest. Even moderate to mild neck pain symptoms can leave you feeling fatigued and irritable. Neck pain should never be ignored as it could be the symptom of a more significant issue such as spinal meningitis. There are numerous causes of a sore neck, including sleeping the wrong way to certain types of cancers. If you're experiencing any of the following symptoms, we encourage you to seek out professional treatment as soon as possible if you're experiencing any of the following symptoms:
Stabbing Pain
Muscle Weakness
Numbness
Popping or Grinding
Pain That Travels to Other Parts of Your Body
Loss of Range of Motion
Difficulty Gripping or Lifting
Our Comprehensive Treatment Options
At Freeman Orthopedics & Pain Center, we provide a wide range of interventional pain management treatment options for our patients. Some of the most common types of neck pain can be successfully managed with our neck pain treatment options. Dr. Freeman and his team of medical professionals will ensure that you receive the proper treatment for your neck pain. We understand that each patient is unique. Once the evaluation is complete, we may suggest one or more of the following treatment options:
Epidural Steroid Injections
A cervical epidural corticosteroid injection can reduce swelling and inflammation in the location of the compressed nerves, improving pain. Patients with cervical radiculopathy can have both neck pain as well as shoulder and arm pain. The injection helps relieve these symptoms.
Nerve Blockers
For chronic neck pain sufferers, nerve blockers may be the best treatment option. A local injection will block pain receptors in the area to alleviate pain and help diagnose the area of pain.
Radiofrequency Ablation
Radiofrequency ablation (RFA) is a procedure to reduce the ability of nerves to transmit pain and is a minimally invasive procedure.
Exercise & Stretching
Exercising and stretching can help improve your strength and alleviate strain in the muscles around your neck.
Trigger Point Injection
When a muscle becomes stiff, torn, or bruised, the point of origin for the injury is known as the "trigger point". A trigger point injection contains a mixture of medications that helps the muscle relax and reduce inflammation. As the medication does its work, blood flow will improve and the body will start to heal itself.
Trusted Orthopedic Specialist Offering Neck Pain Treatment
Dr. Freeman at Freeman Orthopedics & Pain Center provides complete neck pain treatment options for those that are suffering from acute or chronic neck pain. Ignoring the pain in your neck is never advisable as it may cause your symptoms to worsen over time. Instead, we can recommend the right treatment option for you. Our team uses the latest tools and technology to ensure you get the care you deserve in a comfortable setting. Contact us today to schedule your appointment.
Schedule Your Appointment Today